Its International Tea Day and what better way to celebrate it than by sharing my favorite Tea memories. Hence, here is a short poem that I wanted to dedicate to Tea Time Memories …
The Distant View
I used to see,
in the far distant wide,
A memory so
or a beautiful tide,
Usually blank spaces or,
a childhood gathering,
Much cherished by me,
On a cold winter night.
The land was white,
For sure it was snow,
Everything seemed icy and cold,
Yet I was warm and cozy inside.
I used to see,
in the far distant wide,
Birds flew away,
And branches all dried.
My tea was hot, and thus,
I lay my hands on the cup
That was no ordinary one,
For it reminded me,
Of my mother's touch.
The above poem that I self-composed talks of a winter night and I am looking out of the window. Its cold and chilly, yet I do not feel the chill. It is my cup of tea that keeps me warm from within. The cup of tea is best for such a chill because it reminds me of my mother's touch that keeps me warm. 
Teacup and Saucer | Coasters | Almonds | Chocolate Chip Cookies 
Hope you enjoyed.
Cheers!
Bhavana
(The TeaTime Girl)
Follow:
Instagram | Facebook | Twitter | Snapchat
P.S. This post is part of the Chai-a-thon blog train organized by Momsteins. I would like to thank Princy Khurana from Clanpedia for introducing me Also check out my fellow blogger, and friend Sweety Pateliya from Chinks Lounge and read about her wonderful tea memory.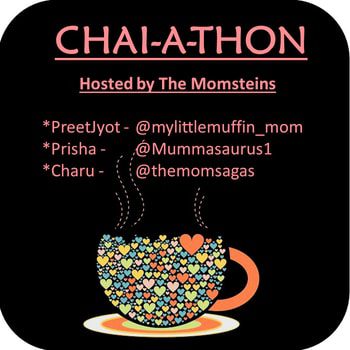 Hosted By :